IMPACT: Sucafina's Responsible Sourcing Program
IMPACT is Sucafina's responsible sourcing program that elevates and rewards farmers for their role in reshaping the coffee industry for good, benefiting farmers, traders and roasters.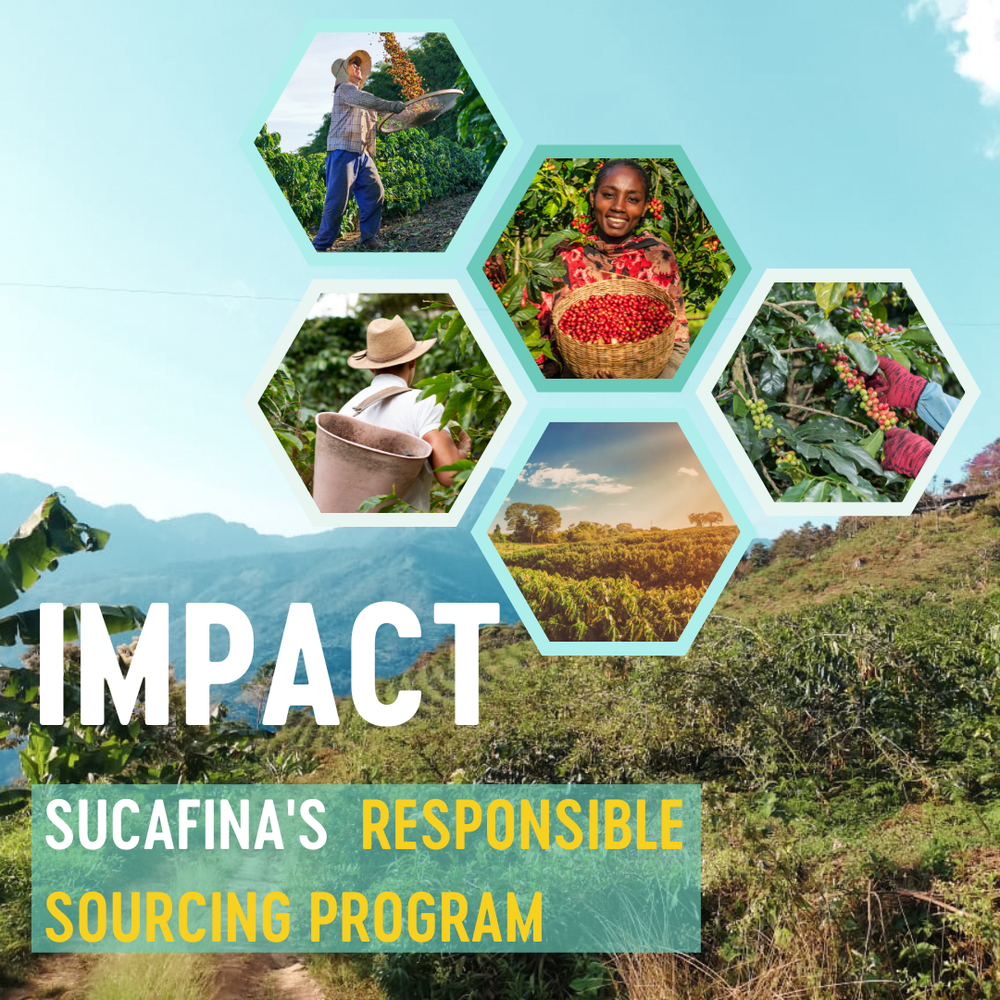 From climate change and deforestation to human rights, poverty and unsustainable farm practices, the coffee supply chain faces major challenges. And with the growing demand for responsibly sourced coffee across the industry, we want to help roasters of all sizes achieve their sustainability goals.
The IMPACT program includes:
The IMPACT Sustainability Standard, which provides assurance that the practices along Sucafina's supply chain are compliant with a range of social, environmental and economic standards.
5 IMPACT Goals to drive measurable, positive change in key areas of sustainability, delivering transparency and shared value for all stakeholders.
Together, we can build a more sustainable future. Together, we can make an IMPACT.
Verification with IMPACT
The IMPACT Sustainability Standard – co-designed by Sucafina and a consultancy partner, Peterson and Control Union, in consultation with stakeholders – ensures compliance with a set of social, environmental and economic standards. IMPACT is based on the Coffee Sustainability Reference Code (Coffee SR Code) and has been recognized by the Global Coffee Platform as Coffee SR Code equivalent, 2nd party assurance.

To be classified as 'responsibly sourced,' all farmers and facilities in a supply chain must comply with all the mandatory Critical Indicators, which are designed to eliminate human rights abuses and environmental degradation. They must also meet the required number of Improvement Indicators, which cover all other sets of sustainable practices and must be improved over time.
Sucafina works hand-in-hand with farmers in the IMPACT program to improve practices on farms of all sizes, in line with the IMPACT requirements. Farmers receive support, periodic training and access to farm services, such as inputs and tools, and we will work with each farmer group to develop a customized improvement action plan.
Supply chains will be audited by a third party every 3 years during harvest season to properly test the adoption of best practices. The program will also deliver measurable improvement in key areas of sustainability through the 5 IMPACT Goals.
For detailed program information, including details of IMPACT's complaints mechanism, please refer to the IMPACT documentation. Where IMPACT is deployed within Sucafina, all stakeholders can make use of Sucafina's grievance mechanism, Speak Up.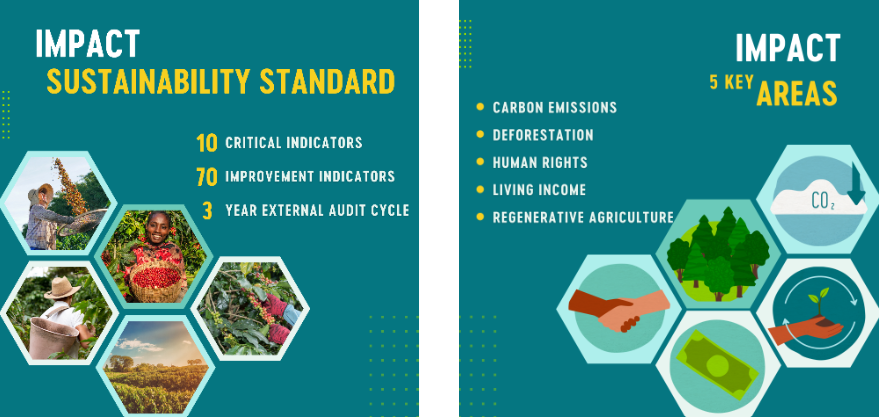 IMPACT for All Stakeholders
IMPACT will become one of the most important tools in achieving Sucafina's purpose of creating opportunities for people to improve lives.
To do this, IMPACT incorporates our three sustainability pillars: Caring for People, Investing in Farmers and Protecting Our Planet.
IMPACT for farmers:
receive advice and training on best practices
see greater demand for their coffee from an industry that needs more responsibly sourced coffee
participate in projects to reduce carbon emissions and deforestation and improve human rights, living income and regenerative agriculture
be rewarded over time with better prices and incentives for acting sustainably
IMPACT for communities:
more investments in projects to improve their social and environmental conditions
IMPACT for roasters:
access a greater supply of responsibly sourced coffee
receive access to IMPACT data on the health of the supply chain and progress against our 5 IMPACT Goals
have opportunities to participate in discussions and projects with Sucafina to target the 5 IMPACT Goals and to have greater engagement with farmers.
Ready to Make an IMPACT?
Sucafina origins, including Brazil, Colombia, Indonesia and Vietnam, have already started to implement IMPACT in their supply chains. Our goal is for all of Sucafina's direct supply chains to be IMPACT verified by 2025.
If you're a roaster interested in purchasing IMPACT-verified coffee, contact your trader to learn more.
Have more questions? Check out our FAQ.
Related coffees:
Share: