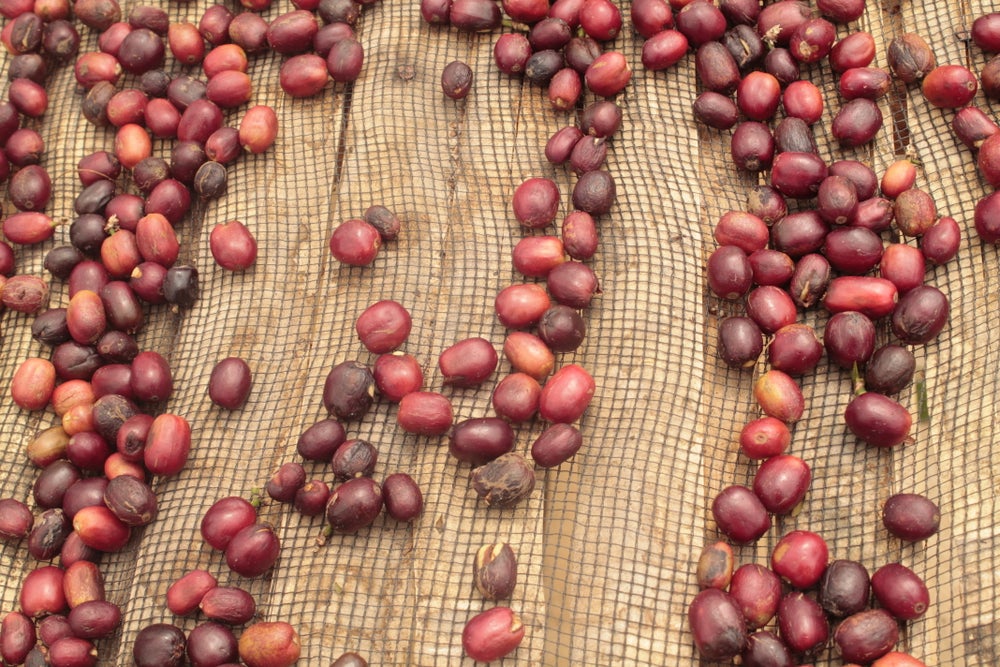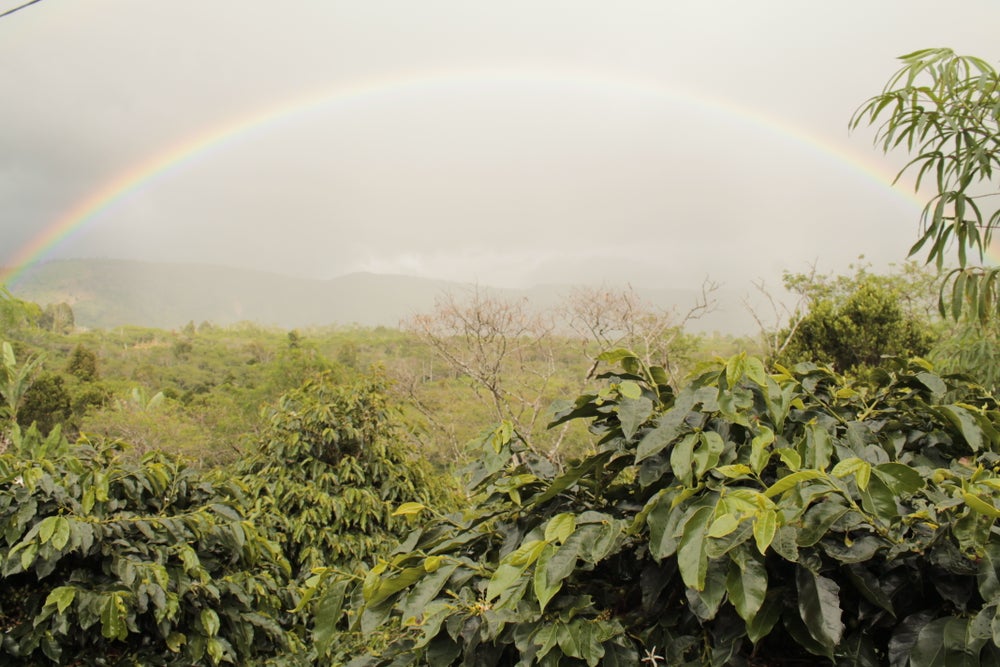 Indonesia
Indonesia has a long coffee producing history, but recently their coffees have been overlooked by the specialty market. Thanks to our innovative and ever-expanding supply chain, we are proud to bring you high-quality coffees from many of Indonesia's unique regions, accompanied by in-depth traceability information.
Details
Place In World Production:

#4

Average Annual Production:

10,725,000 (in 60kg bags)

Common Arabica Varieties:

TimTim (Timor hybrid), Sigararutang, Andungsari, Ateng, P88 (Catimors), USDA, Abysinnia, Linie S-795, Borbor, Typica

Key Regions:

Aceh | Sumatra | Kerinci | West Java | Flores | Sulawesi

Harvest Months:

Sumatra: April-June (main crop) & Nov-Jan; year-round (fly crop)| Java: April - August | Bali: April - July | Flores: May - September | Sulawesi: May - October | Papua: May - October
History of Indonesian Coffee
The Dutch colonial government planted the first coffee trees in Indonesia around Batavia (modern-day Jakarta) in the 17th century. Those the first seedlings were destroyed in flooding, but the second iteration of seedlings successful produced cherry. By the early 1700s, the first exports of coffee left for Europe from the Port of Java on Dutch East India Company ships. Just a few years later the government was exporting several thousand pounds of coffee annually, making Indonesia the first country outside of the Arabian Peninsula and Ethiopia to cultivate coffee in commercial volumes.
For the better part of a century, Indonesia produced nearly 100% Arabica. However, in the 1860s, coffee leaf rust (CLR) spread beyond its birthplace in Ethiopia and obliterated the majority of Indonesia's production. Soon thereafter, most farmers replaced their Arabica trees with Robusta. While Indonesia remains a formidable coffee producer—ranking fourth in the world—less than 20% of production is Arabica. When only Arabica coffee is considered, Indonesia ranks as the world's 12th largest producer.
Giling Basah: Wet Hulled Process
Indonesia is perhaps best known for its unique wet hulling process (giling basah). Though its exact origins are unclear, wet hulling most likely originated in Aceh during the late 1970s.
Wet hulling's popularity can be attributed to producers' need for prompt payments. It was also adopted specifically by many producers who lacked the drying infrastructure that was needed to shelter drying parchment from the high humidity and inconsistent rainfall typical in Sumatra. At higher elevations with constant humidity and unpredictable rainfall, drying can prove to be slow, risky and difficult.
The basic process for wet hulling is as follows: Cherry is harvested and pulped at or near the farm, on small hand-cranked or motorized pulpers. The coffee is fermented overnight (in small tanks, buckets, or bags) and washed with clean water the following morning. Parchment is sun-dried for between half a day and two days, depending on the weather, to allow for skin drying which eases the removal of parchment.
At this juncture the moisture content is between 30-40% and parchment is delivered to a processor (often by the village collector) for wet hulling. A wet hulling machine is larger, requires more power, and runs at a faster speed than a traditional dry huller. After the hulling, the coffee seed is whitish and pliable and is called labu. It is laid out to dry on tarps or patios, where it reduces in size and moisture to 14-15%. This stage the green coffee is known as asalan - unsorted and with defects. Much of the internal commercial trade is for asalan. Exporters, most of whom are based in Medan, will finish the drying down to 12-13%, sort and prepare for shipment.
Our premium and specialty wet hulled coffees are produced in direct collaboration with village collectors and processors so that the drying, storage, and lot integrity remain in place from the farmer all the way you. In this way we can export cleaner, more stable and more traceable regional lots.
Arabica Production in Indonesia
Indonesia is an incredibly diverse and expansive country. Each coffee growing region has their own unique system of production and trade, with local varieties, climate, and terroir contributing to the distinct profiles. The most well-known regions for specialty coffee are Aceh, North Sumatra, South Sulawesi, West Java, Bali, and Flores.
On average, farms are between 1-5 hectares and often grow vegetables, fruits, and spices alongside coffee plants. Many of these farms are in remote, difficult to access regions. A vast network of collectors, processors and traders connect the farmer to the exporter. There are hundreds of active exporters, mainly located in Medan. Surabaya in East Java is another hub for export (generally for coffees from Java and further east), while smaller volumes are exported from Jakarta and Makassar (Sulawesi).
The Indonesian coffee industry has experienced wide fluctuations in production and as a result, pricing. With strong demand from large roasters and increasing local consumption, a bad harvest can result in skyrocketing prices. For example, 2016 was a recent production high while 2017 was a historic low, caused mainly by unseasonably long rains and severe weather. By early 2018 dozens of exporters had gone bankrupt, unable to fulfill contracts they had sold prior to the price spike. To further complicate things, the exchange rate between the US dollar and Indonesian Rupiah is volatile and collectors can often hold stocks and speculate on the market.
Expanding National Market
Export volumes, which once grew prolifically, are slowing down.
The cause of the decreased global demand for Indonesian coffee is largely a mix of changing palates and high cost. While some producers are responding by learning new production methods and honing quality in order to meet changing tastes and expectations, others are increasingly turning to the growing national market.
Many coffee drinkers in Indonesia are interested in trying a wide variety of high-end specialty coffees from Indonesian producers throughout the country, and many producers are reaching out directly to consumers to sell their coffee. Selling via Instagram, e-commerce apps and other popular platforms, in many cases, can mean higher prices for coffee farmers. This focus on nationally produced coffee is in part due to a sense of pride in coffee production that reaches from the ranks of farmers in remote agrarian areas to the president of Indonesia, Joko Widodo, who has even posted pictures of himself cupping coffees on his Instagram page.
In many cases, the shorter distances that coffee must travel from a producer to an in-country roaster, combined with the shortened supply chain, enable roasters to pay higher prices to farmers while still making a profit at their roasteries and cafes. The direct relationships between roasters and producers, along with the higher prices those roasters are willing to pay, mean that many of the best quality lots are staying in country for the first time. It remains to be seen whether growing national demand will significantly affect export costs in the future. At the moment, it appears that rising national demand and slowing global demand are maintaining an equilibrium.
Sucafina has established offices and quality labs in Indonesia that are staffed by an experienced team who manage our activities across this vast and diverse island nation. We partner with farmers, cooperatives, collectors, mills, and exporters from many producing islands including Sulawesi, Flores, Bali, Java and Sumatra. We work to identify the best producers across Indonesia and support their ability to improve quality, increase capacity and access the market.
We regularly travel to visit partner producers. Visits are essential to maintaining and strengthening the relationships that are integral to our communal success. Visits help us gather accurate, up to date information on harvest and post-harvest timing and practices. We also use this time with producers to help identify challenges they are facing and determine where we can help them work towards sustainable, affordable solutions. Our local team oversees logistics to ensure that coffee moves safely and efficiently from farm to mill to port, and on to you. With comprehensive quality control at multiple stages of the supply chain, we ensure the integrity of each shipment and work continuously on quality improvement.
Indonesia has an impressive diversity of coffees to offer and the industry continues to evolve and change. Whether you're looking for consistent deliveries of the classic wet-hulled profile from North Sumatra or Aceh, the clean washed coffees from Flores or Sulawesi, or experimental micro-lots from the new generation of producers emerging around the archipelago, the team at Sucafina Indonesia is ready to help.