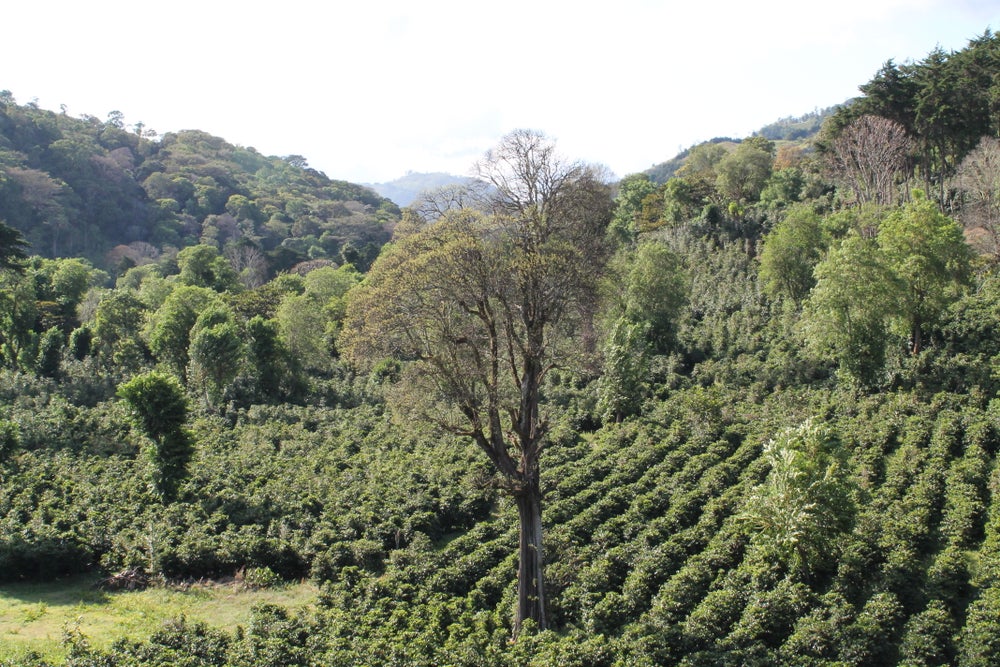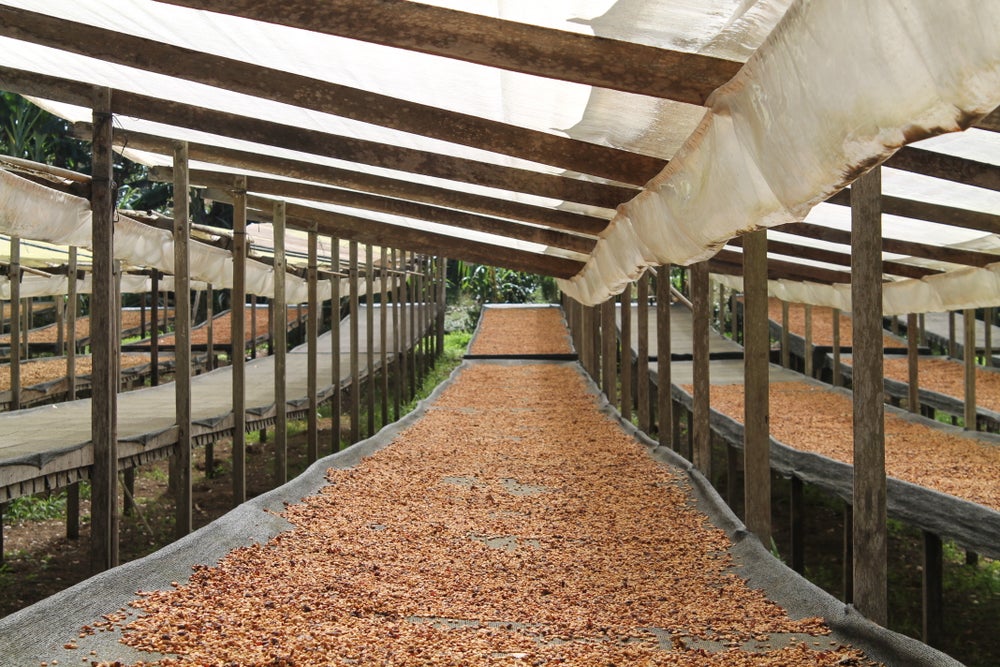 Panama
Though small in coffee production, Panama is a mighty player in coffee quality. In particular, Panama is famous for producing Geisha variety lots that have fetched prices exceeding $800 per pound. Today, its renown as a producer of rare and sought-after varieties positions Panama as a contender for a new kind of 'coffee-tourism' that has the potential to change the way we produce, purchase, consume and talk about specialty coffee on a global scale.
Details
Place In World Production:

#35

Average Annual Production:

105,000 (in 60kg bags)

Common Arabica Varieties:

Typica, Caturra, Catuai, Bourbon, Geisha

Key Regions:

Boquete | Volcán | Renacimiento

Harvest Months:

December - March
European immigrants brought coffee to Panama when they settled in the region in the late 19th century. The first area where these early European settlers planted coffee was the province of Chiriqui (valley of the moon in the language of the native peoples that once inhabited this region). The province remains one of main coffee-producing regions in Panama today.
Early plantations were in coastal areas but, due to the low altitude, early farms were plagued with pests and diseases, and cultivation soon moved to higher elevation. Today, the three primary coffee regions are Boquete, Volcán and Renacimiento; all three are within Chiriqui Province.
Panama's three coffee growing regions are situated around the country's three volcanoes: Volcán Baru, El Valle and Le Yeguada. These regions have exceptional microclimates, rich volcanic soils and are cooled by moderate breezes that flow from both the Pacific and Atlantic oceans.
As the winds coming from the north pass over the mountains, they create a fine mist called bajareque that lowers the temperature around the mountainside coffee farms and slows cherry ripening. When cherry ripens more slowly, it accrues a higher sugar concentration and more of the volatile oils that make coffee so sweet, complex and delicious.
Boquete and Volcán are separated by a volcano called Volcán Baru. Strong transportation and processing infrastructures in both regions, including well-run wet and dry mills, are important factors contributing to the high-quality production emerging from the regions.
Renacimiento is less widely known than Boquete and Volcán, mainly because it is remote and difficult to access. This remoteness also contributes to the reduced infrastructure for processing and transportation. Despite such geographic obstacles, farms in Renacimiento have also produced exceptional lots. Renacimiento has the same ideal conditions as Boquete and Volcán, and, with the right investment, could become their equal in quantity, quality and export volume.
Although it is a relatively small coffee producer, Panama stands out for the exceptional quality of the specialty coffee it produces. The microclimates in the mountainous coffee regions help keep pests and diseases under control and also provide unique environments that have demonstrated an ability to bring out the best in specific Arabica varieties that do not do as well elsewhere.
Among those varieties, Geisha is the most well-known for its role in catapulting Panama to international specialty coffee stardom. The first Geisha variety specimen was collected from wild-growing trees in Ethiopia in the 1930s. In 1953, Geisha was brought to Centro Agronómico Tropical de Investigación y Enseñanza (CATIE). CATIE distributed Geisha, then called T2722, across Panama in the 1960s. Despite the widespread dissemination of seeds and seedlings by CATIE in the 1960s, most farmers did not plant very many Geisha trees because the variety proved difficult to grow and maintain.
In fact, Geisha's utility was a bit of a paradox. CATIE originally promoted Geisha because it demonstrated a resistance to coffee leaf rust (CLR), but when planted at lower altitudes—the areas most susceptible to CLR—Geisha yielded remarkably poor tasting coffee.
And though Geisha thrived at higher levels—about 1,700 meters above sea level—the variety is difficult and temperamental to grow. Due to thin foliage and shallow root structures, Geisha is extremely inefficient and its yield is half that of Catuaí.
Even if you get past all those issues, Geisha is an even more finnicky when it comes to timing the harvest. According to a fourth-generation Panamanian coffee grower, the window for peak maturity for Geisha cherry appears to be smaller than other varieties, and the cherry does not fare well if it is not processed immediately after being harvested.
In the 1960s, Geisha was not at all an appealing variety to farmers. In addition to producing a small harvest and being difficult to grow, the coffee industry in the 1960s was more price sensitive and more focused on volume and uniformity than today. While many farmers kept a few Geisha trees on their plots, the difficult, low-yielding tree was not often planted en mass.
It took several decades before the exquisite floral and fruit notes of Geisha were fully discovered. The cherry from the Geisha trees that remained on farms were always blended with cherry from many other varieties on producers' farms. Farmers were unaware that Geisha—a variety they knew mainly as fussy and capricious—offered flavors that would later be bid on so ferociously for prices that reached over $800 per pound. It was not until the early 2000s, when the Peterson family, owners of Hacienda La Esmeralda in Boquete, Panama, decided to isolate and process Geisha cherry as a single-variety lot that Panama—and the world—became familiar (and enamored) with the perfumed, floral notes of Geisha.
In 2004, the Peterson family submitted their all-Geisha lot to the Best of Panama auction and received the hitherto unheard-of price of $20.10 per pound. As Geisha remains in high demand today, all-Geisha lots frequently score 90+ points on the SCA scale, and Panama retains its status as a leading producer of single-variety Geisha coffees.
Today, many of the coffee farms in Panama are owned by expatriates or international investors. International owners bring many skills and ideas to their farms. Their extra financial heft can help boost farm infrastructure, inputs and growing practices, especially with an eye towards social responsibility and environmental sustainability. While their impacts are mainly positive, the increase in international investors—as well as the growth of the tourism industry in Panama—has been accompanied by increases in land value that frequently out-price native-born producers and land owners.
The high value of Geisha has brought out both the best and worst in the industry. For established producers who receive excellent prices for their Geisha and other lots, the high prices they receive have often been reinvested in their communities and in renovating their farms to be as environmentally sustainable as possible. Unfortunately, the lure of Geisha's high value has led some people bypass traditional land purchasing agreements and illegally deforest areas of national parks to get the best location for new (and illicit) Geisha farms.
Even as the number of producers those receiving high prices for their Geisha remains relatively low, the blossoming coffee industry in Panama has demonstrated potential to raise incomes for a wider spectrum of producers and coffee workers.
Coffee-tourism is a growing industry that is offering better incomes and opportunities to Panamanians. Some people have called Boquete "the Napa Valley of Coffee" after the valley in California that is well known—and popular—for its wine production. Just as it is common for vacationers to spend several days touring California's Napa Valley, stopping at various wineries and vineyards along the way to taste wine and learn about production methods, it could soon be popular for coffee lovers to tour Boquete, visit producers and have tastes of some of the region's finest coffees. The impact of coffee-tourists could spread beyond the producers they visit. Tourists need lodging, meals and transportation and often seek a variety of souvenirs from bags of coffee to locally-made crafts. Increased tourism in Panama's coffee regions could funnel money into the local economy and small and large farms alike.