From the Field, Resources for Roasters
Monday, August 31, 2020
Tips for Successful Producer-Roaster Partnerships
Long-term, producer-roaster relationships offer a wide range of benefits for roasters and farmers. Sometimes these relationships can be tricky to maintain, but they don't have to be so complicated. When you work with us, you have access to our global network of experienced coffee professionals. We're here to help facilitate meaningful partnerships by bridging the physical and logistical gaps between you and your producer-partners.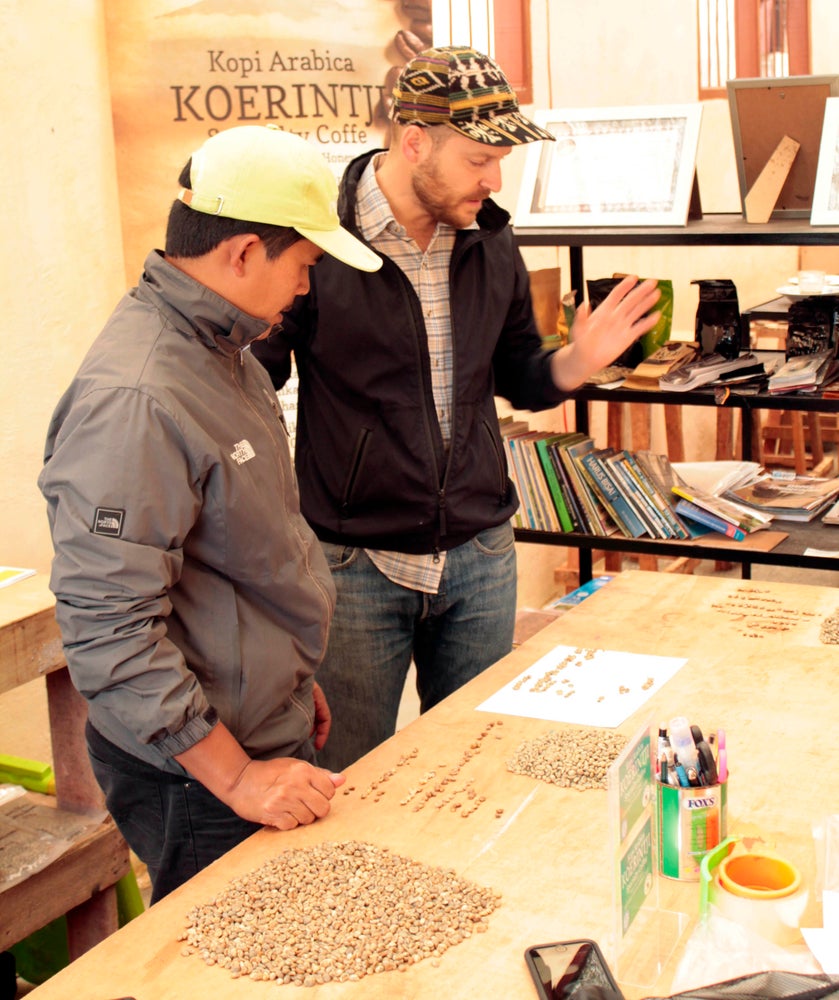 From Seattle to Kigali, Antwerp to Bandung, we work directly with coffee roasters and coffee producers to build sustainable supply chains that meet the needs of all stakeholders. Backed by this robust, vertically-integrated network, we're able to provide better and higher levels of traceability & transparency and more efficient and reliable delivery times, all while supporting you and your producer-partners every step of the way.
To get an on-the-ground perspective of how to make producer-roaster relationships flourish, we spoke with Daniel Shewmaker, Director Indonesia and Timor-Leste for Sucafina. Daniel has worked side-by-side with producers for over 10 years and he's here to share some of his insights into the keys to forging durable, long-term relationships.
A Strong Foundation
A major secret to Daniel's success is good communication. Communicating about costs, timing and external factors like weather is essential. "I've noticed that farmers and roasters are operating on different timelines, and talking about who needs what when can clarify expectations, reduce stress and make everyone happier with the partnership," Daniel says.
One place communication is especially important is with sampling and purchasing. Specialty producers are making decisions about how to process their crop early on in the harvest. It's understandable that roasters want to see samples before committing; however, "producers are in a catch-22 because they want to send a good representative sample, but by the time they send it, and the roaster has a chance to cup it and make a decision, it's often too late in the harvest for them to produce that coffee," Daniel explains.
Structures for Long-Term Success
Daniel has several suggestions for building and maintaining a relationship that can work for both producers' and roasters' timelines. "Set a date to talk about pricing before the harvest begins. Ask producers about their costs. Learn how much it costs them to produce and what price they need to succeed," Daniel explains. This is also a good time to discuss quality expectations.
For example, if the harvest starts in June, Daniel suggests aiming to come to an agreement on pricing, quality and volume by April or May. While it seems early, the security that comes with having a plan and a price, helps farmers better meet roaster needs.
Since communication is such a key ingredient to successful relationships, Sucafina is here to help. "We know the value of a good producer-roaster relationship and are here to facilitate successful partnerships," Daniel says. "I always recommend that roasters call us. Our offices are staffed with people who speak an impressive array of local & international languages. We're here to make discussions across languages easy and meaningful." Contact your trader and they'll put you in touch with the right people.
Think Quality AND Quantity
In order to thrive, a farmer needs to sell their entire harvest, not just the choicest parts. For instance, Sucafina purchases as much of our partners' total output as possible, while incentivizing for quality where we can.
"Roasters can make the biggest impact on farmers' livelihoods when they purchase a larger portion of the farmer's total harvest," Daniel says.
Buying more of your producer-partner's coffee will contribute toward income stability. This enables them to continue to focus on quality improvement and, potentially, to experiment more. When choosing a producer to partner with, it may be worth thinking about how your coffee program could use their entire harvest, from their highest-scoring lots to their early season output.
Be Imaginative and Flexible
Thinking about how you can use different quality levels from the same producer is also a good thing to do when choosing high-scoring lots. Many factors outside anyone's control can affect coffee quality.
When you have several options for using the coffee from a partnership, you can nurture your relationship through good and bad harvests without having to make the choice between keeping a contract and breaking the bank.
Get Support, Get Stuff Done
Moving all that coffee can be a complex dance. With local offices and a knowledgeable, global staff, we make it easy to finance, purchase and transport the [coffee] fruit of your partnerships.
While you're focusing on building & maintaining meaningful and productive relationships with producers, letting someone else handle the nitty-gritty stuff can save a lot of time. Whether you're looking for a new partner or trying to ship coffees you've purchased, we're here to help both you and your producer-partners throughout the supply chain.
Related News
From the Field, New Arrivals
From the Field, News
From the Field