From the Field, News
Tuesday, January 24, 2023
Kenya Harvest Update 2023
Changing weather patterns, high C market prices and smaller harvests have been the hallmarks of Kenyan coffee production this year. To get the clearest picture about what we're seeing and what to expect for the 2022/2023 crop, we spoke with Andrew Kandia, Mill Manager at Kahawa Bora Millers.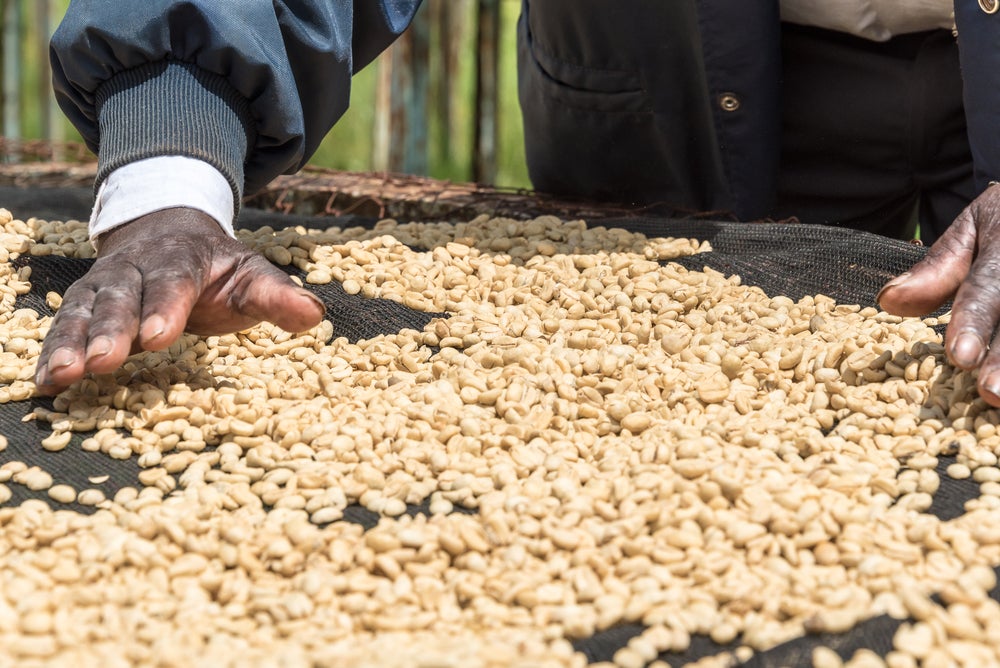 This year in Kenya, we're seeing the real effects of climate change. "We're seeing green cherry, red cherry and flowers for the next crop all on the tree at once," Andrew says. "With a changing climate disrupting weather patterns, Kenya has experienced intermittent rainfall, and with that, intermittent flowering and cherry ripening." This is highly unusual for Kenya and it drives home the massive impacts that climate change can have on the coffee supply chain, especially in Kenya.
The staggered ripening is also due in part to a prolonged drought period that farmers have seen in the past 24 months. As a result, the harvest is expected to be about 15% smaller than those of the past 2 years.
On a positive note, the high C market of the past 2 years has offered some great returns for coffee farmers. Even though these higher prices overlapped with higher fertilizer prices, farmers were still seeing higher incomes than in the past, Andrew says. Higher prices enabled farmers to invest in their farms by replanting trees and renovating fields where rootstock was particularly old. They were also able to purchase and apply fertilizer in adequate amounts.
More investment in the fields is translating into good quality at the mill. "We're seeing the product of a year where farmers were investing heavily in their trees and cup quality is very high overall," he says.
While farmers a producing some excellent lots this year, AA lots are composing a smaller portion of the total coffee milled this year. In the previous 2 years, about 50% of a milled lot was AA. This year, that number is about 30%. Interestingly, whereas cup quality between grades has been more uniform in past years, AA lots are scoring significantly higher on cup score than AB and PB lots.
We've seen some very high-scoring lots on the cupping table this year and we're expecting that to continue. In particular, we expect to see more high-quality lots at the beginning and end of the season. "We've found that our most excellent lots are produced either very early or very late in the season when stations have more capacity and are able to devote the time and attention to producing these exceptional lots," Andrew says.
As the harvest enters full swing, our Sucafina Kenya offices are hard at work sourcing and cupping new lots. Despite the tighter supply, we're working round-the-clock to match roasters with qualities and prices that meet their needs. Kenyan coffees are in high demand, so now is the time to get in touch with your trader to start talking about Kenyan coffees and book your lots now. We are planning to offer some early shipments out of Kenya that include some of the first great lots of the season, so keep an eye out on the website for offers in the coming months.