From the Field, News
Monday, May 22, 2023
Notes from the Field: Indonesia
Today we'll hear from Daniel Shewmaker, Managing Director of Sucafina Indonesia, about the Arabica and Robusta harvests in Indonesia. Daniel shares his notes on the upcoming harvests, cherry prices and more in this inside-look at sourcing from Indonesia. He says: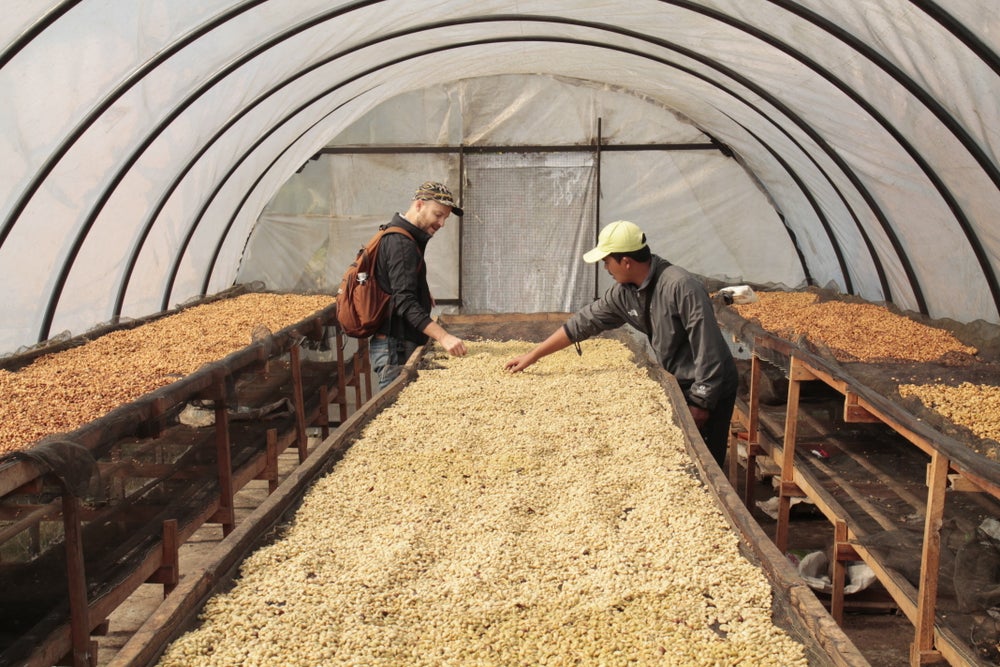 "The Arabica peak harvest is underway in Java and will start soon in Sulawesi, Bali and Flores. Sumatra has a few weeks left of their first peak with the next (larger) harvest set to start in October. With Indonesia straddling the equator and seeing persistent rains last year, almost all stages of development are visible on trees now, and we will see an ongoing fly crop.
"The harvest is more or less in line with expectations. Overall, volumes are down compared to last year and nearing 10-year lows. In some areas, quality is a challenge due to high prices disincentivizing ripe cherry selection. However, we are optimistic that better drying conditions could lead to improved quality over the next few months of processing (May-July).
"High prices have reduced demand and increased working capital requirements for processors. Price volatility is nothing new in Indonesia and continues to present difficulties in risk management.
"The Robusta harvest right now is in full swing. Farmers are drying the cherry in their yards and some rain last week delayed the drying. Lowland is around 50% harvested and highland around 25%.
"The current quality looks good and is better than last year. The volume is still in line with our projection. We forecasted a 20% lower production this crop compared to last year, however, it may be even smaller than that.
"Availability of subsidized fertilizers has always been a major problem for farmers. The price of non-subsidized fertilizers is considered too expensive for them, so they only use perfunctory amounts. This is likely contributing to the lower yields this year.
"At the same time, the current price for Robusta is the highest historically and farmers are happy. Local demand in Indonesia continues to be strong, with demand driving prices internally and supporting producers' interest in improving processing methods and quality.
"Sucafina Indonesia's funded community nurseries are distributing their first seedlings at the end of this harvest. The new seedling varieties that we've promoted testing for are expected to have their first flowering later this year. In Q4 of this year, we will conduct extensive interviews with farmers in our West Java supply chain. This will give us the foundation from which to make progress in areas such as living income, deforestation, human rights, carbon emissions, and regenerative agriculture."
Sucafina Indonesia is working with farmers to source high-quality coffees from our partners in Indonesia. We're involved in a variety of sustainability projects that are designed to support farmers through increased yields, establishing agroforestry, producing organic compost and more. With our Farmgate Initiative, your coffee purchases directly contribute to programs designed to increase farmer livelihoods. Indonesia coffees are shipping soon. Interested in sampling or booking Indonesia coffees? Get in touch with your trader today.