From the Field, News
Monday, June 13, 2022
Achieving Organic Certification in Rwanda
We're proud to announce that we've helped farmers at four RWACOF (Sucafina Rwanda) washing stations to achieve Organic certification. The stations can now receive fully Organic cherry from participating farmers and maintain Organic traceability and certification during processing.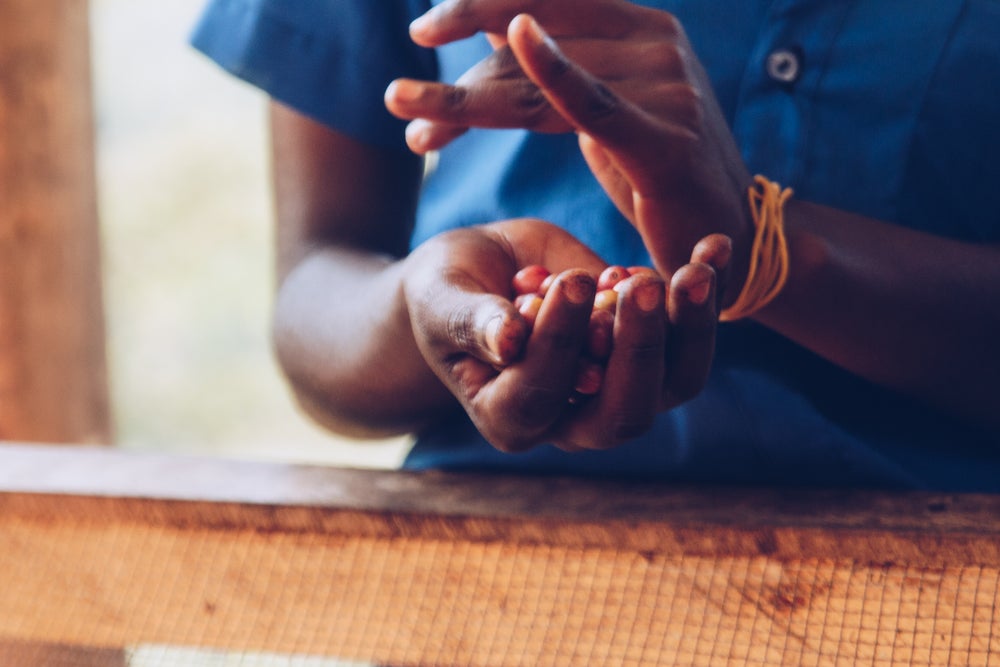 "We are practicing organic production in order to help farmers reach a new market and to satisfy the needs of consumers," says Celine Niwemugeni, Specialty Supply Chain Regional Officer for Sucafina Rwanda. "Consumers are glad to have coffee that's safer for them and farmers are happy to reach that market and earn a premium from certification."
Organic certification is one of the certifications that takes the longest to achieve, Celine explains. Sucafina Rwanda began mobilizing farmers and transitioning them to organic production three years ago. "We support them by teaching them how to grow coffee organically. We help them transition from synthetic chemical inputs to organic manure, natural pest control methods and more," Celine says. Sucafina Rwanda also provides trainings on Good Agricultural Practices (GAP), human rights and gender equality on farms. "We also teach them how to protect the environment from the impacts of coffee production," Celine says.
At the station level, Organic certification means better record-keeping and traceability for each lot. "We cannot mix Organic and non-certified coffees at any point, so we're really emphasizing the way we label and track coffees at these stations," Celine says. This means using both physical recordkeeping and the digital platform, Cropin, to track every lot from receival through to bagging.
The time and money invested in Organic production is worth it, Celine says. "Once they grow Organic coffees, the prices they receive are much higher and they receive premiums that help them continue farming organically. It helps them maintain soil fertility and protect the environment and the conservation areas near their farms." It's important to note that the 30 cent-premium that roasters pay for Organic coffees is invested directly into the supply chain and farmers again. "The premium goes back into the cost of being certified and into farmers' pockets," Celine explains.
Organic certification is a way to leverage the mostly organic-by-default practices already occurring in Rwanda. Despite the government's strong efforts to deliver fertilizer to farmers, most farmers in Rwanda don't have access to enough chemical fertilizers for their entire farm. They simply cost too much for farmers to purchase adequate amounts. As a result, many farms already have lower yields and are already operating nearly-organic farms. Gaining Organic certification means that farmers can access a new market, receive a premium for their certification and increase their livelihoods.
"In Rwanda, a lot of farmers don't use very many inputs, even chemical ones, because they don't have access to it. With Organic certification, we help them source the organic inputs and they're actually able to apply fertilizers more regularly and better control pests and diseases," explains Mona Philippon, Specialty Supply Chain Officer for Sucafina Rwanda. As a result, some farmers with Sucafina Rwanda actually see their yields increase after switching to Organic production and getting support from Sucafina Rwanda. "We're encouraging farmers to use GAP, including mulching, applying organic fertilizers and using organic pesticides," Celine adds.
This year, Sucafina Rwanda is expecting to produce 250 metric tons of Fully washed, Organic-certified green coffee. They'll also be producing a small run of Organic Naturals. These won't last long, so get in touch today to pre-book these coffees!