From the Field, News
Monday, June 20, 2022
Indonesia Harvest Update 2022
We're expecting a tight supply of Indonesian coffees this year. But, thanks to our growing network of partner washing stations, we're also expecting high-quality Wet Hulled and Fully washed coffees. Now's a good time to start booking your Indonesian purchases.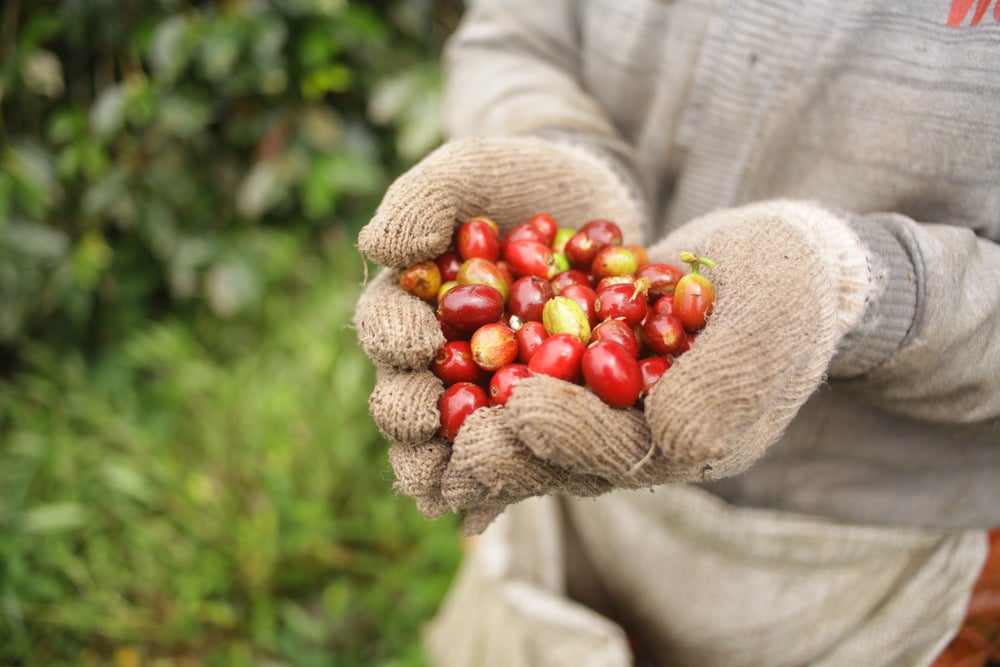 Weather patterns from La Nina are heavily impacting coffee production in Indonesia, says Daniel Shewmaker, Managing Director Indonesia and Timor Leste. "Across Indonesia, harvest sizes are smaller than last year, which was smaller than the year before," Daniel says.
Smaller harvest sizes are largely the result of heavy rains during and after flowering. When a coffee tree flowers, the flower must remain on the branch in order to 'set' and produce a coffee cherry. Strong wind and rain can knock flowers off branches and, thus, disrupt the cherry-growing process.
Additionally, the rains have continued during the harvest and processing season. Continuous rain makes it harder to dry coffee, especially in Indonesia's humid climate. "In normal conditions, we could process roughly double the coffee we're producing this year. The rain significantly slows drying and puts constraints on drying space," Daniel explains.
On the flip side, small harvests and high demand mean that farmers are receiving excellent prices for their cherry this year. Among the cooperatives we work with, Ribang Gayo delivers a second quality payment to members at the end of the season. "This past year, more farmers with Ribang Gayo received a premium than ever before, and we expect that premium to keep growing as we continue purchasing more specialty coffees from them," Daniel says. "Throughout Indonesia, cherry prices are on average 60% higher than last season. Higher prices result in additional investment and expansion of coffee farms".
Sucafina Indonesia continues to support farmers through their local entrepreneur nurseries. Farmers can get materials to begin a coffee or shade tree nursery and then start selling those seedlings to neighboring farms. The project encourages alternative sources of income for participating farmers and means that local farmers have access to high-quality seedlings to renovate their farms and plant shade trees.
Another way Sucafina Indonesia is ensuring a more fair, high quality and traceable supply chain is by collaborating with local processors to build new washing stations. "We're expecting to see better quality in spite of the poor weather conditions because we have more direct control over wet and dry milling," Daniel says. "With new washing stations we can implement stricter cherry selection, more stages of quality separation, day lots and intensive quality control. We are learning which areas produce the highest quality and how to maximize that quality. Our dry mill will be operational by Q3 to prepare these coffees for export to the highest possible standard"
This year, we're expecting tight supply on Indonesian coffees as poor weather conditions means lower production across Indonesia. While most suppliers may be experiencing difficulty with drying due to the wet weather, we're confident in our supply chain and expect to see even high-quality Wet Hulled and Fully washed coffees this year. In light of short supply, now is the time to start booking Indonesian coffees. Get in touch today to sample and prebook your lots.