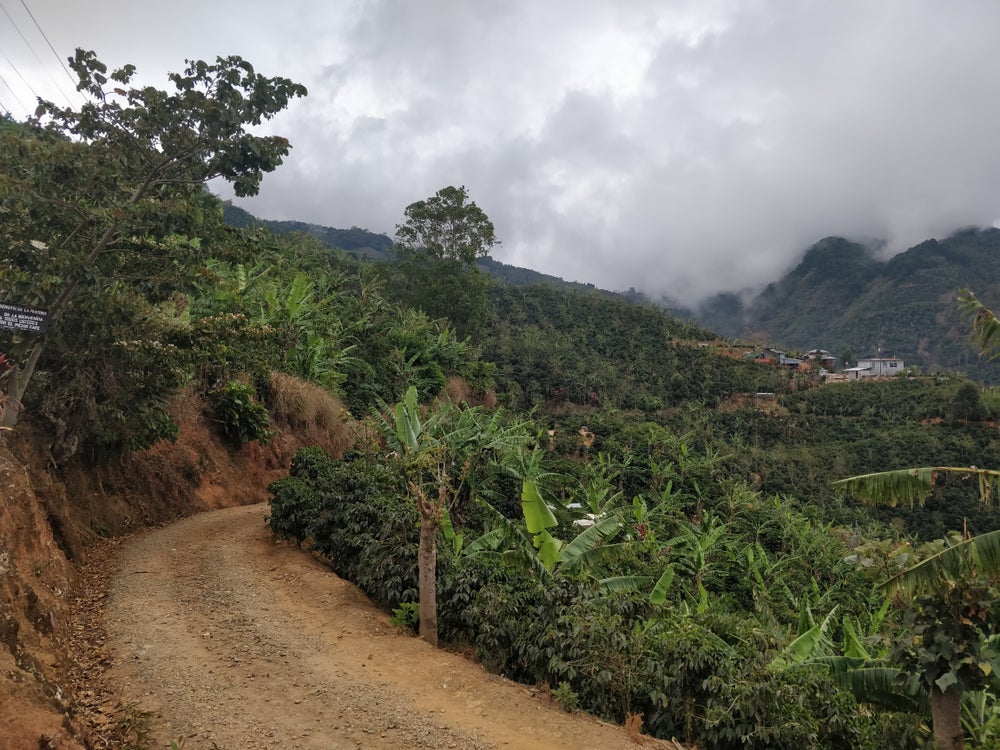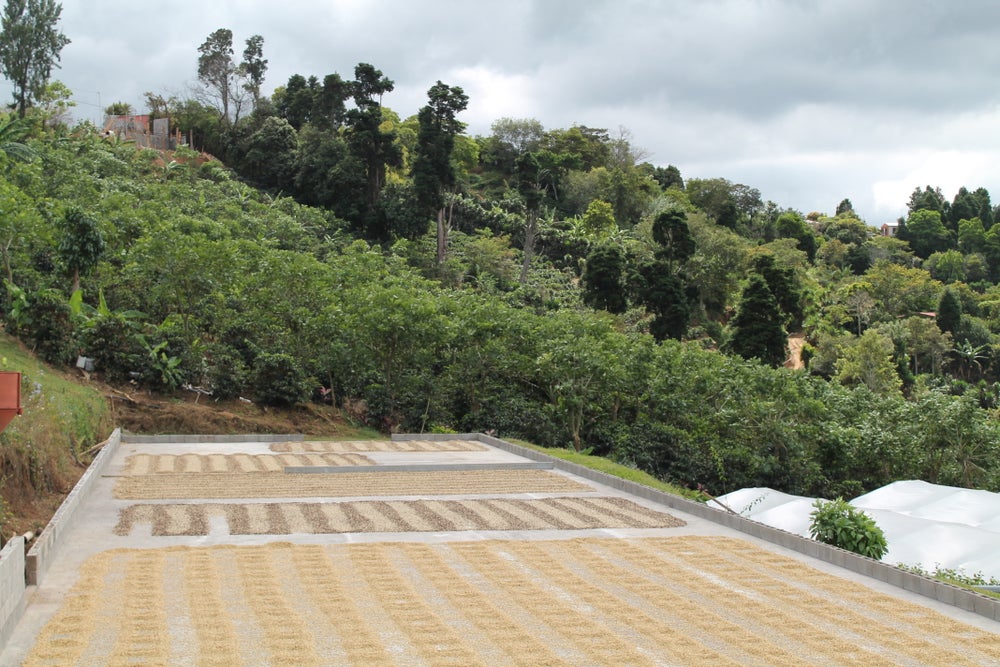 Costa Rica
Thanks to tireless innovations, the sheer number of coffee varieties, extensive technical knowledge and attention to coffee production, Costa Rica is one of the most advanced coffee producing countries in Central America.
The climatic conditions in the country also play a role in the high quality of coffee produced. There are eight coffee regions: Guanacaste, West Valley, Turrialba, Valle Central (Central Valley), Tres Rios, Brunca, Orosi, and Tarrazú, a specific part of Valle Central.
Details
Place In World Production:

#14

Average Annual Production:

1,230,000 (in 60kg bags)

Common Arabica Varieties:

Typica, Caturra, Catuai, Villa Sarchi, Bourbon, Geisha,

Key Regions:

Tarrazú | Central Valley | Western Valley | Tres Rios | Brunca | Guanacaste | Orosi | Turrialba

Harvest Months:

October - March
Coffee has been a central part of the Costa Rican experience since the country's independence from Spain in 1821. At that time, the new government led a campaign to distribute free coffee seeds to citizens in order to promote coffee production as a cash crop. Costa Rica was soon exporting green coffee beans all over Central and South America.
Just two decades later, in 1843, Costa Rica sent its first shipment of green coffee beans to England. By 1860, Costa Rica was also supplying coffee to the United States. Coffee played such a big role in Costa Rican production that coffee was Costa Rica's only export for the years starting from independence until 1890.
Costa Rican coffee farmers experience significant barriers to production. Production costs in the country tend to be very high in comparison to neighboring countries. The persistent growth of the tourist industry, combined with the influx of foreign businesses bringing more money into Costa Rica, has created inflation. While inflation and the rising quality of life have had many positive benefits for Costa Ricans, rural areas have struggled to keep up with increasing land and input prices and the associated higher labor costs. As a result, Costa Rican coffee tends to be on the expensive side.
Especially because costs are higher, Costa Rican coffee producers must find other ways to stand out from all the other producing countries in the Americas. Luckily for the specialty coffee industry, Costa Rica has had great success becoming a frontrunner in quality specialty coffees and processing methods.
In areas like Tarrazú, where conditions are ideal for coffee growing, competition is even higher. In such areas, the competitive atmosphere leads many producers to invest in private micro mills, growing exotic varieties and alternative processing.
The focus Costa Rican farmers place on increased coffee quality is beneficial to both themselves and the specialty industry as whole. An atmosphere that encourages experimentation and innovation can breed any number of new or better varieties, growing techniques, processing methods, storage protocols and more.
Innovations in Quality, Sustainability & Traceability
Costa Rica has also become a world leader in traceability and sustainability in coffee production. Ninety percent of the country's 50,000 coffee farmers are smallholders, and today, many deliver their cherry to boutique micro-mills that often process cherries according to producer specs to retain single-lot or single-farm qualities.
The rise of micro-mill processing, in itself, is a relatively recent development. Prior to the early 2000s it was common for smaller producers to deliver their cherry to cooperative-owned mills. As lucrative specialty markets developed, more and more farmers began establishing mills on their own farms, giving them increased control over processing and more assurance of the 'traceability story' so important to the growing market segment. Mills with excess capacity would then offer their services to neighboring farmers, offering a range of processing methods for small lots along with full traceability for roasters and importers. The system has enabled Costa Rica's small to mid-sized coffee farmers to offer a wide range of differentiated products. Today, specialty lots from Costa Rica are almost as likely to bear the name of the micro-mill where they were processed as that of the producing farm.
The typically uncertain and dry weather patterns in Costa Rica make coffee farming more difficult. Long dry seasons and unpredictable weather patterns have virtually eliminated the possibility of organic farming. Nonetheless, both the government and farmers have taken active steps to protect the environment. Some of these restrictions also inform the processing methods for which Costa Rican coffee has become known.
In particular, the government is very strict about water usage and pollution. There are stringent filtration requirements for wastewater. Because filtration systems that are up-to-code to are so expensive, standard Fully washed coffees are not widely produced. Most mills that do produce washed coffees use centrifugal force instead of water to remove mucilage.
When Juan Ramon Alvarado won the Cosecha de Oro (Golden Harvest) in 2006 he was, arguably, making the most of this constraint. Both of Alvarado's winning lots were 'Honey' processed using a demucilager. His unconventional coffees and unexpected win further transformed processing methods in Costa Rica.
The growing presence of the micro-mill combined with this new trend for experimental processing. In a very short time, the country went from a producer of reliable washed coffees that - though lacking in distinction - were clean and predictable, to a plethora of unique and highly-branded processes. Natural coffees are now common, and a full range of 'honey-processed' options (in nearly all the colors of the rainbow) are readily available…for a price.
Today Costa Ricans coffees are celebrated for their wide range of flavors and tastes that are unique to their locations and processing methods.
The coffee industry in Costa Rica is increasingly threatened by real estate expansion. Many people are attracted by Costa Rica's near-perfect climate and turquoise waters. As a result, many areas that were once covered in natural vegetation or coffee fields have made way for expanding cities, especially in the San José area. Since so many farmers in Costa Rica are smaller and don't have a lot of political or financial power, they are unable to fight large building corporations and often have little choice but to sell their farms.
The low C prices in recent years have affected Costa Rica similarly to other Latin American countries. The continued low prices have led a not-insignificant-number of coffee farmers to leave coffee farming in favor of other crops or in search of jobs in more urban areas. According to research conducted by the Coffee Institute of Costa Rica (ICAFE), the ranks of coffee farmers shrank by 19% between 2007 and 2017.
At the same time, many farms in Costa Rica are more protected than other farms in similar conditions in other countries. The very same mechanisms that lead to high labor costs and make coffee in Costa Rica more expensive also contribute to protecting small farmers from large corporate buy out. Since most farms are in mountainous regions and thus cannot be mechanized easily, as farms are in Brazil, there is little incentive for large companies to purchase swaths of land to convert to plantation farming.