From the Field, New Arrivals
Monday, March 15, 2021
In Tanzania, High Quality Meets Affordability
High quality meets affordability in Tanzania, where "it's hard to find better value for high quality Washed coffees anywhere else," says Harrison Koch, Managing Director for Sucafina Tanzania.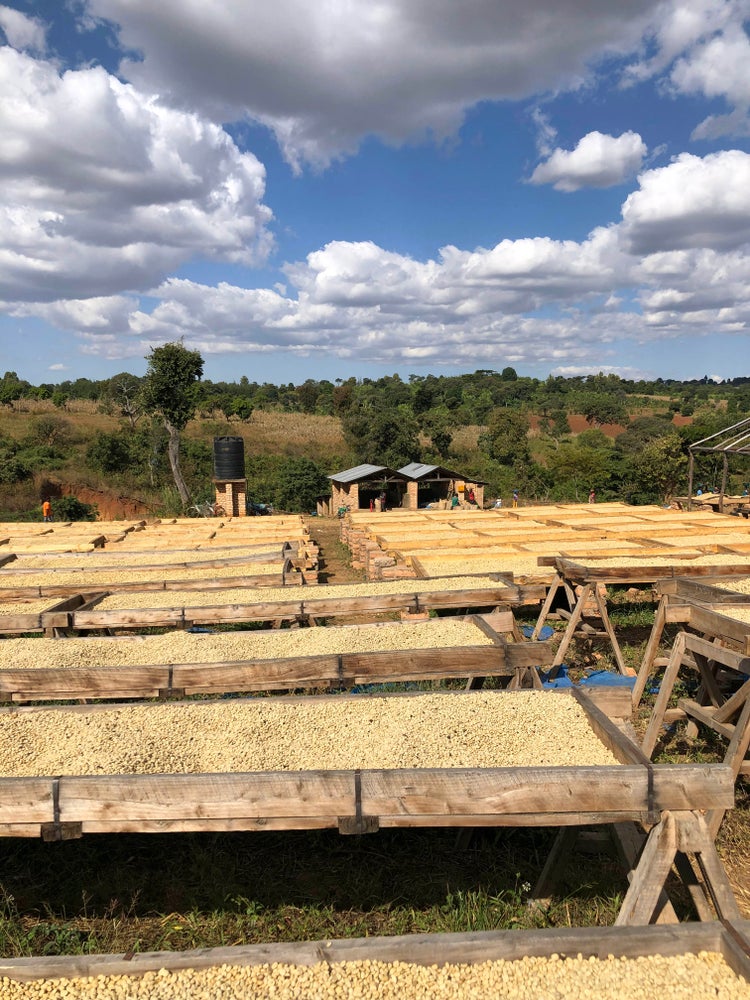 Tanzania's Washed coffees are beloved for their balanced and fruit-forward profiles, and coffee growing regions hit the altitude sweet spot between 1,500 and 1,800 meters above sea level. On top of quality, coffees tend to be favorably priced due to several factors, including lower costs of production, lower land prices and, due to its less widely known status as a specialty coffee powerhouse, lower overall demand.
The incredible diversity of the Tanzania's coffee supply chain adds additional value and makes it possible to offer something to nearly everyone. "There are so many producing regions spread across the country utilizing an incredible range of cultivation styles," Harrison says. "No matter the profile you're seeking, there's something here for you."
While each region is unique, Arabica production can be broadly split into 2 growing regions: North and South. In the North, larger private estates are experimenting with progressive approaches & new processing styles, Harrison says. "From Geisha lots to carbonic maceration, you can find the full menu of small-scale experimental production happening in the North."
In the South, most coffee is produced by smallholders cultivating an average of 0.5 to 3 hectares. Historically, most coffee in Southern Tanzania was home processed, but that's changing rapidly. Over the past 10 years or so, NGOs and exporters have offered a lot of technical assistance, providing training to help smallholders in optimize home processing techniques. "We're seeing a quality revolution unfolding. It's amazing to see coffee processed at the household or village level with comparable quality to coffee produced at wet mills," Harrison says.
We're also seeing more wet mills in the Southern regions. As new wet mills are built, they give producers more options and their standardized quality control results in more high-quality coffee. "Many Southern mills are producing extremely high-quality Washed coffees at prices that you'd be hard-pressed to find anywhere else in East Africa."
This expanding processing capacity in homes and wet mills also means there's an incredible potential to improve quality nationwide, Harrison says. "Tanzania is currently producing just under 1 million bags a year. With the right investment, Tanzania has all the potential to become the next major coffee producer in East Africa."
Sucafina Tanzania works hand-in-hand with cooperatives producing high quality coffees. "We invest a lot of time, energy and capital into identifying the best producer groups and washing stations and then investing in them to increase capacity, efficiency and quality," Harrison says. "And our operations are so well vertically-integrated in the supply chain that on the ground, we've found the best quality and the best method for adding value for both producers and roasters."
Two of our long-term partners are Ruanda and Illomba Agricultural Marketing Co-operative Societies (AMCOS). Sucafina Tanzania assists both AMCOS with operational finance, maintaining certifications and improving processing techniques. "Working with these two cooperatives, we're achieving supply chain efficiencies that enable us to get high quality coffee with incredible value for our customers, while the farmer receives higher prices than they would at auction," Harrison says.
Our partners also benefit from Sucafina Specialty's experience operating washing stations and working with producers in other East African origins. We can bring our expertise in local coffee production to our Tanzanian partners at lower cost to everyone involved. "It's really the best of both worlds for both producers and roasters. Our partners maintain control over producing assets and receive higher prices for their coffees. Roasters purchasing from us get higher quality coffees at lower prices, because as partners rather than owners, our overhead is lower."
Our partnerships with quality-focused cooperatives give us access to the crème de la crème of coffees produced in Tanzania, and we're excited to bring those coffees to you. As opportunities for partnership expand, we'll continue to invest in sustainable relationships with producers and cooperatives, supporting high quality coffee production and sourcing coffees for customers like you.