From the Field, News
Monday, May 17, 2021
Soil Sampling: A Community-Focused Solution to Quality Improvement
For most smallholder farmers, the largest production cost is farm inputs. In Kenya, smallholder coffee farmers working with Sucafina Kenya (Kenyacof/Kahawa Bora) wanted to improve yields by applying inputs with more precision. Sucafina collaborated with smallholders in Kenya to create a soil sampling program that gives farmers more information about their soil. With knowledge of the specific nutrient-deficiencies in their fields, farmers can maximize input efficacy, lowering their production costs while maintaining or improving their harvest.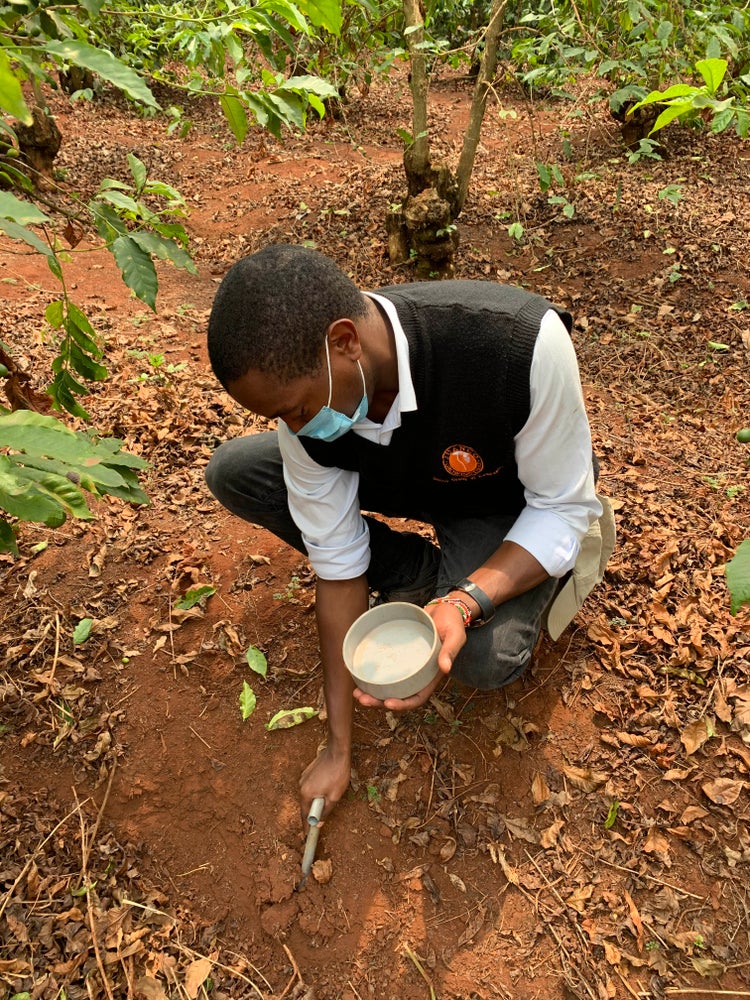 Putting Farmers First
"Sucafina is focused on creating a sustainable industry that provides livable incomes for people across the coffee supply chain," says Mette-Marie Hansen, Sucafina Kenya country manager. "A key to our success and sustainability is that we focus on putting farmers at the heart of our concerns."
Sucafina supports farmers by listening to their needs and collaborating with them to create programs that provide a host of positive benefits. "Their success is our success," Mette-Marie says of the hundreds of thousands of smallholders who partner with Sucafina. "Entrepreneurship is part of Sucafina's DNA. From QC staff in our Seattle office to field officers in Ruiru, Kenya we are always discussing innovative solutions to enhance farmer profitability."
When Kenya's Kahawa Bora Millers expanded its Farmer Hub program to help make inputs more accessible, they soon saw that many of the farmers who now had secured consistent access to inputs wanted more information on how to maximize the efficacy of their input use.
"The soil sampling program is a natural extension of our other offerings, and our existing programs make it easier to successfully promote new projects like this one," says Mette-Marie. For instance, with the COVID-19 pandemic making travel and group gathering difficult, Sucafina leveraged their SMS messaging network to reach estate owners and cooperative board members, who in turn, shared the message with their farmer members, employees and other stakeholders.
How Soil Composition Matters
The soil sampling program addresses a key step in farmer profitability. Lower input costs mean lower overall production costs and higher profits. More targeted input application also translates into healthier trees and higher quality cherry.
"Understanding soil composition is the key to maximizing the efficiency of fertilizer use," says Lucy Njoroge, senior agronomist with Sucafina Kenya. "With proper fertilizer application, trees can yield up to 20% more coffee than when used incorrectly or not at all."
Better knowledge of soil composition also leads to positive environmental impacts. With a clearer picture of their soil needs, farmers can use less fertilizer and choose fertilizers that contain the correct levels of nutrients for their soil. This minimizes the fertilizer runoff and prevents excess nutrients from entering local waterways and causing algae blooms or other environmental issues.
Simplifying Soil Sampling
The soil sampling program Sucafina Kenya designed is simple and scalable, Mette-Marie explains. Mobile scanners deliver soil reports in real-time. Sucafina-backed agents use the soil scanner and Android phones with a pre-installed app to take soil readings. They receive a small commission for each sample taken.
The Android app prepares soil data in real-time, enabling agents to share the report from the app with farmers in minutes. The data includes levels of nitrogen (N), phosphorus (P), total organic carbon (TOC), and exchangeable potassium (K) in the soil. The scanner also measures pH, soil temperature and cation exchange capacity. The information is saved to a secure data-storage cloud so that Sucafina Kenya agronomists can use the data to provide additional support and information to farmers.
Sucafina Kenya's goal for 2020 is to scan soil from 5,000 farmers. To verify their analyses and provide ongoing support, they plan to retest all farms in 2021.
Soil Sampling in Action
Nancy Muthoni Mwaniki owns Namwa Estate in Kirinyaga. She heard about the soil sampling program when she received an SMS message from Kahawa Bora Millers. Muthoni believes the program will help her be more efficient and cut production costs. She plans to invest the money she saves to help her avoid needing high-interest loans in the future.
Farmers like Nancy are spreading the word – and acting as advocates for this new technology. "We've seen widespread adoption of new techniques," Lucy Njoroge says. "As smallholders continue to innovate on their farms, soil sampling will help them improve their economic and agricultural resilience."
Another early adopter is Ngao Masaku, a smallholder who belongs to the Kilalani Farmers Cooperative Society. He plans to use the money he saves on inputs to purchase a cow, a pig and poultry. These animals will produce manure that Masaku will use to fertilize his fields and vegetable gardens. Soil sampling is helping Masaku fulfill his intention to remain financially independent and enabling him to leave money for his children. "We are elderly and [do not want to ask] our children to help us…instead, we will be giving to them," Masaku says.
Quality-Improvement Alleviates Youth Unemployment
When planning their soil sampling program, Sucafina Kenya evaluated how the program could benefit more people in the rural communities where they worked. Unemployment rates are high among Kenya's under-35 population, and while low prices and a lack of arable land make coffee farming a less-feasible widespread solution, Sucafina Kenya saw a way to employ young people and improve the efficacy of their soil sampling program in the process.
"We saw an opportunity to make the soil sampling program more efficient by employing youth who are already living in the communities where we work," Mette-Marie explains. Their location reduces travel costs and, by becoming involved in the program, these young entrepreneurs gain access to a host of opportunities.
"We consider all the young people we work with to be 'agripreneurs'. They are planning for their futures by helping us support the future of coffee production. We hope the payments for soil sampling will help start many small, independent businesses in coffee-growing communities," Mette-Marie says. "We see a real potential for long-term collaboration with these agripreneurs, and we hope that this work will lead to a full time occupation as we expand the program to work with other crops."
Farmers involved in the soil sampling program are saving money on inputs and seeing higher yields while young agripreneurs are building savings and experience to help them kickstart their businesses. Sucafina Specialty is already taking steps to expand soil sampling programs to additional communities. They continue to add to their suite of programs that support sustainable livelihoods across the coffee supply chain.