From the Field
Monday, September 18, 2023
Uganda Harvest Update 2023
Uganda's Arabica and Robusta harvests are beginning soon. Uganda is fast becoming a go-to destination for both good quality washed Arabica and clean, affordable Robusta, meaning more and more people are keeping an eye on the harvest. To get updated and accurate information, we turned to Sucafina in Uganda's (Ugacof) Thomas Pitault, Arabica Supply Chain Coordinator, and Raymond Mugisha Muhwezi, Junior Data Analyst.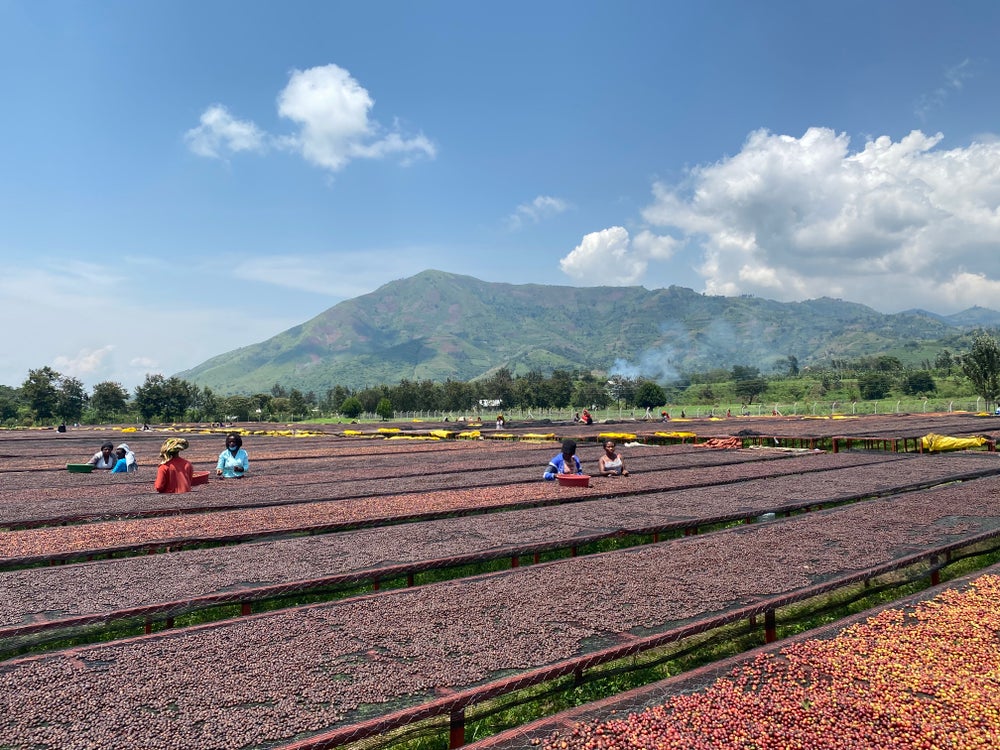 Arabica Harvest
This season's arabica harvest will be about 10% lower overall than the 2022/2023 crop in Western Uganda, despite a slightly larger crop in the areas above the equator, Thomas says. "Farms above the equator are expected produce a bumper crop but areas below the equator are on an off-cycle compared to last year and will produce a smaller crop. This will lead to a total crop that's about 10% smaller than last year," he explains.
Quality-wise the outlook is quite positive, Thomas says. Despite lower-than-normal precipitation between April and September, which will slightly affect the conversion ratio and the green distribution, "the trees are resilient, and cherry looks healthy. Therefore, we're expecting a sweet and pleasantly acidic coffee for our Fully washed lots and fruity and winey notes for our premium Naturals, that will score 83+'" he says. They expect cherry to begin flowing into Sucafina in Uganda's washing stations in early September through December 2023. Sucafina in Uganda operates 6 stations in Western Uganda. The market for cherry is growing year-on-year, Thomas explains, and that's leading more farmers to sell their cherry to washing stations like Sucafina in Uganda's. This, in turn, means more quality-oriented processing and better-quality coffees available from Uganda. Sucafina in Uganda is working with farmers to promote better agricultural and harvest practices to further increase quality and boost farmer income.
Uganda's Arabica harvest began in late-August and will continue through late November Then, the second cherry buying of the coffee year 2023/24 will commence in February and finish in May 2024. However, on the weather front, the El Niño phenomena, which is associated with heavy rains in Uganda, might affect the crop outlook for this 2023/24 coffee year by damaging the last phase of flowering on the trees, hampering proper cherry development and moderately increasing the chances of fungal disease propagation during the September to December rainfall season. The expected shipment period for coffees will be from December onwards for Fully-washed and Premium Natural.
Robusta Harvest
Last year, drought and hailstorms in the Greater Masaka region destroyed trees and reduced the 2021/2022 crop. This year, the outlook is much better and the Robusta harvest is projected to be 25% bigger than last year's crop with 4.9 million bags compared to 3.7 million last year, Raymond explains.
"We anticipate that the Central East, Central West and Busoga regions will see a bigger fly crop in addition to a bigger main crop," Raymond says. "The fly crop in Great Masaka will likely be smaller but the main crop in all regions will be significant." The fly crop is expected to begin in October or November and run through the end of March with the main crop starting in May 2024 and running through August 2024. We anticipate that the outturns will be similar to previous years with good results in quality.
Sustainability in Uganda
The processing boom means additional investment in Uganda's coffee industry, making it the perfect time to focus on sustainable growth and production. Sucafina in Uganda is instituting a number of programs and projects to support coffee farmers and increase the sustainability of our supply chain.
At the farm level, Sucafina in Uganda is working with farmers to increase quality through fertilizer distribution, funding to incentivize stumping & renovation, and access to financing for farmers. They're also working with farmers to map farms and monitor deforestation to ensure the supply chain conforms to the new EU deforestation laws.
Sucafina in Uganda has helped 3,000 farmers in our supply chain access IMPACT verification. IMPACT is Sucafina's responsible sourcing standard, and it provides assurance for roasters that coffee is produced responsibly while giving farmers the tools and income necessary to make continuous farm improvements. IMPACT-verified coffees will be available beginning in December 2023.
At their stations, Sucafina in Uganda has upgraded processing lines to machines that use up to 60% less water than the old machines. They're also investing in better systems to treat wastewater with naturally-occurring bacteria instead of harsh chemicals. With the harvest beginning soon in some areas of Uganda, it's a great time to reach out to your trader to start planning your forward bookings. Reach out today.