From the Field
Monday, March 20, 2023
Preserving & Protecting Water Resources
March 22nd is World Water Day. Water is not only essential to life but it's a human right and a vital resource. Conserving water resources is one of the main goals of our sustainability strategy, and Sucafina companies at origin are involved in a variety of projects that are protecting, purifying and democratizing safe, clean water.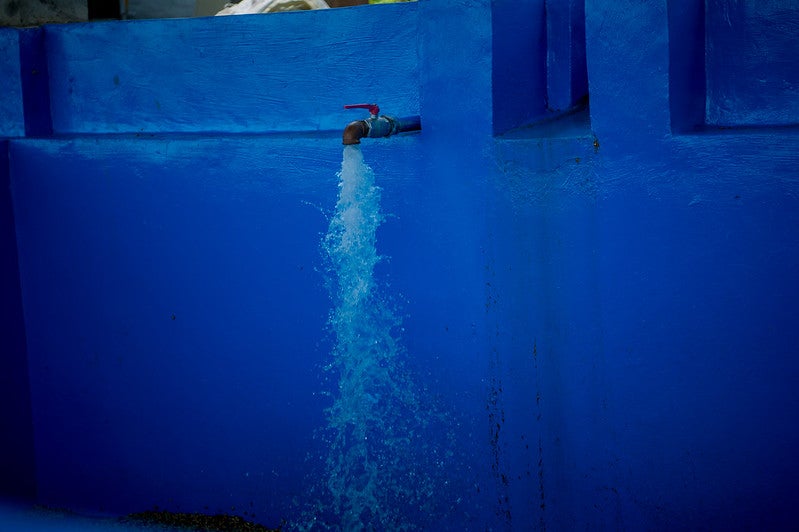 Sucafina Yunnan recently completed a state-of-the-art wet mill whose water purification system is the first of its kind in coffee processing. By working with a company in Kunming, we designed a closed-loop system that completely cleans all wastewater from coffee processing, making it safe and clean enough to drink. The system requires very little oversight and cleans the water used to process up to 120 tons of cherry daily. The mill doesn't produce any wastewater runoff and the cleaned water is reused again and again. The biomass filtered from the water is then burned to power the dryers. Additionally, all the electricity at the mill is generated by renewable energy including hydroelectric power. 40 to 50% of the heat in the dryers is generated by solar power.
Sucafina Tanzania is helping farmers maximize quality while better protecting the environment with a new eco-pulper loan project. 60% of Tanzanian arabica is home-processed, resulting in a significant variation in quality from lot to lot. One hurdle that's making it harder for Agricultural Marketing Cooperatives (AMCOS) to process high-quality coffee is poor pulper quality. Many of their pulpers are older. Old pulpers that don't work properly can damage beans when pulped and use a lot of water. They also break down frequently and can limit the volumes process and delay timely cherry processing. Access to pulpers and other equipment as well as training is a vital step in improving livelihoods for farmers in Tanzania. "This is a real need for farmers and AMCOS," says Aurelie Mbonigaba, Supply Chain Coordinator in Tanzania. With Technoserve, Sucafina Tanzania is working with AMCOS to provide affordable loans to purchase an eco-pulper as well as providing the training necessary for safe and effective operation. Eco-pulpers reduce water usage from 8 to 10 liters per kilogram of wet parchment to 1.5 liters per kg.
In Rwanda, Musasa washing station is one of Sucafina Rwanda's (RWACOF) 30+ stations. Recently, they completed an ambitious water purification project that has supplied over 1 million liters of clean water to families living nearby. Women and youth can spend many hours daily collecting and purifying water. These duties are time-consuming and can limit youths' access to education. Purifying water by boiling it also produces greenhouse gases and contributes to deforestation. The water purification system operates year-round and serves 100 families.
This World Water Day, we're proud to be investing in local projects that are making an impact on our supply chains. From China to Rwanda and many places in between, Sucafina is "caring for people" and "protecting our planet" (two of our core sustainability pillars) with water purification projects that focus on creating shared value for all stakeholders.