From the Field, News
Thursday, August 4, 2022
Adding Value (& Yeast) in Burundi
Small production volumes in Burundi in recent years create new challenges for producer profitability. To support our farming partners through low production, we're trialing solutions that add value in innovative ways.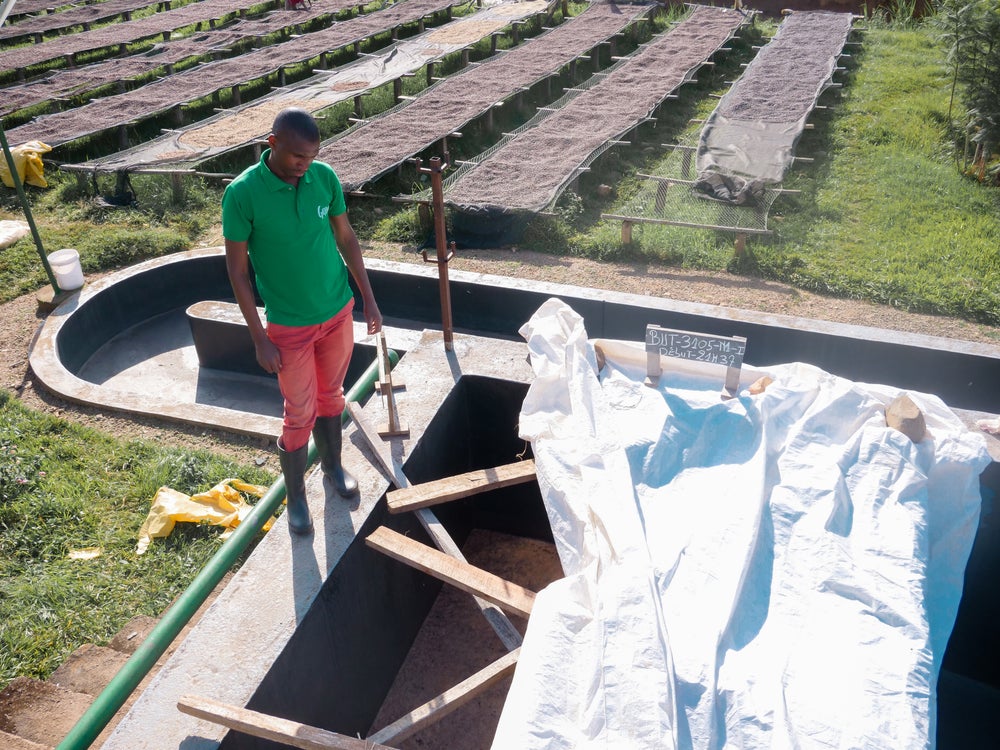 "Yeast-inoculated processing allows us to produce unique but consistent profiles. This, in turn, will enable us to pay second payments to farmers and continue to offer services, including our livestock chains, solar power and medical programs," explains Eddy Nkanagu.
We're already seeing positive results. "Yeast inoculated coffees are cupping 1 to 2 points higher, on average," Eddy says. Higher scoring coffees mean better prices and second payments for producers.
To produce these delicious profiles, we are using yeast strains developed specifically for coffee by Lalcafe. Of the 3 strains we use, each is valued for the unique way it develops flavors during fermentation. ORO yeast increases mouthfeel, builds a stronger body, and draws out notes of red fruit. CIMA boasts a higher sweetness and increases citrus notes. Intenso elevates floral and tropical fruit notes while creating a more balanced acidity.
We're producing Fully washed, Natural and Honey-processed coffees (all treated with yeast-inoculation) and also experimenting with at which stages to add the yeast. "For a Fully washed lot, we can inoculate cherry and let it ferment before pulping or while it's fermenting in tanks," Eddy says. "Each method we trialed delivered a different profile and different results, so we're experimenting with how to best bring out the profile of the coffee," Eddy says. "We found that adding ORO yeast to our Fully washed lots gives them a fuller body than typical Fully washed from those stations. The flavors created by yeast-inoculation also combined with the distinct acidity of local lots to create a really balanced coffee. Similarly, when we used Intenso on our Honey lots, it brought out distinct fruity notes that really added to the profile."
While we trialed every combination of yeast and process, we selected only the best-performing processes. During trials, "we noticed that the CIMA Honey process did not result in as good of a finish as we wanted," Eddy explained. "So, we discontinued it." The Intenso dry Natural was also discontinued due to lackluster results.
The quality focus on these yeast-inoculated lots have other positive byproducts as well. "We've noticed even less potato defect in these lots," Eddy says. Our selection of ripe, red cherry definitely plays a role in reducing potato defect. "For all lots, we select only the ripest, densest cherry for processing and those are least likely to have the insect bites that open the door to potato defect."
Sucafina Burundi's and partner washing stations are finding new ways to use yeast-inoculation to diversify their portfolio and address this year's low-yields. Volumes of these exceptional and interesting lots will be very low, however. Now is a great time to book Burundi lots, so reach out to your trader for more information.
Learn more about specific processing methods with these photo stories:
The 2022 harvest has concluded and Sucafina Burundi is currently in the midst of milling their lots. The first shipments are expected to depart in September. Now is the perfect time to get in touch with your trader to prebook fresh Burundi lots.
This article originally ran in July 2021. Minor changes have been made to keep this article updated.