From the Field, News
Monday, July 26, 2021
Sustainability Round Up: Finding Innovative Solutions
Together with our supply chain partners and sister companies, we're working on innovative solutions to some of today's biggest issues. Effecting positive, lasting change is a lengthy process, but we're excited to share what our teams are accomplishing and update you on our progress towards a more sustainable and equitable supply chain.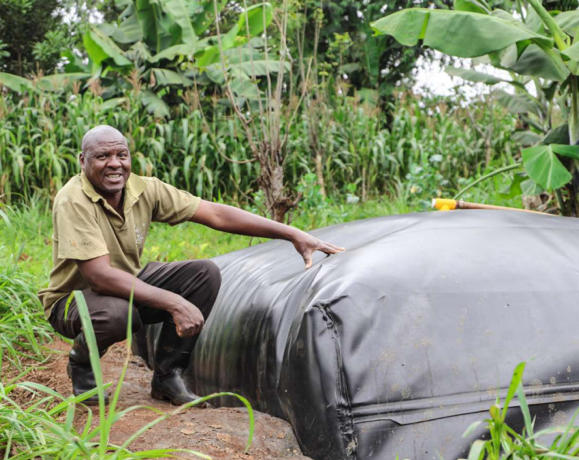 Making Coffee Greener
In Uganda, our washing stations have begun implementing wastewater filtration that removes organic matter and purifies water. This filtration process is improving our environmental impact while paving the way for similar systems at other Sucafina washing stations. The water treatment system removes solids, neutralizes acidity and filters water so it's safe to use and drink.
Meanwhile, in Rwanda, a new biofertilizer program is using maggots to transform coffee byproducts and organic waste into nutrient-rich fertilizer that's perfectly suited for Rwanda's soils. This fertilizer will help improve yields and coffee quality while also producing more environmentally-friendly and affordable livestock feed.
This Rwandan fertilizer project has been so successful that Sucafina Kenya (Kenyacof/Kahawa Bora) is piloting a similar program. Like the project in Rwanda, the fertilizer will be the result of collaboration with local agencies and specially formulated to work best in Kenya's soils. This low-cost, environmentally friendly fertilizer can go a long way towards decreasing producer costs and increasing overall livelihoods.
Sucafina Kenya is also piloting a biodigester program that will reduce greenhouse gas emissions while improving household conditions. Biodigesters use animal manure to produce renewable biogas that replace charcoal and firewood for households, improving household air quality. Waste from the biodigester also makes a great fertilizer for coffee trees.
Following up on our carbon assessment project from Q1, we recently kicked off a global carbon footprinting exercise. Eight origin operations are involved: Uganda, Tanzania, Kenya, Indonesia, PNG, Vietnam, Colombia and Brazil. By mid-2023, we will have developed Sucafina-specific carbon calculators for each of these origins. We also launched our global deforestation risk assessment project. The goal is to map the current deforestation baseline for approximately 100,000 Sucafina farmers by mid-2023.
Making Coffee More Equitable
We understand that supporting our supply chain partners is just as important as supporting the earth. One recent program that we're proud to be a part of is a partnership that involves Ugacof (Sucafina Uganda) and Sawa World. Sawa World provides access to local, low-cost and easy-to-learn business skills that provide employment opportunities for women and youth. Through this partnership, we're working with 200 youth and women working with Sucafina Uganda. By providing training and subsidized start-up capital, we're supporting their unique microbusinesses that will increase their incomes.
Ugacof is also working with IDH, the Sustainable Trade Initiative to propel several Farmer Hub programs. Farmer Hub promotes sustainable supply chain initiatives, including making 4C and UTZ certification more attainable, and a fertilizer access program that made it easy for farmers to buy fertilizer on fair credit.
These programs – from entrepreneurial support to making fertilizer more accessible in partner communities – are only small highlights of our wider Sustainability efforts. We offer many opportunities for roasters to invest directly in projects like these. Ask your trader for more information about on how you can directly support our sustainability programs – including projects that work to offset climate change, improve cup quality, increase gender equality, and enhance food security.